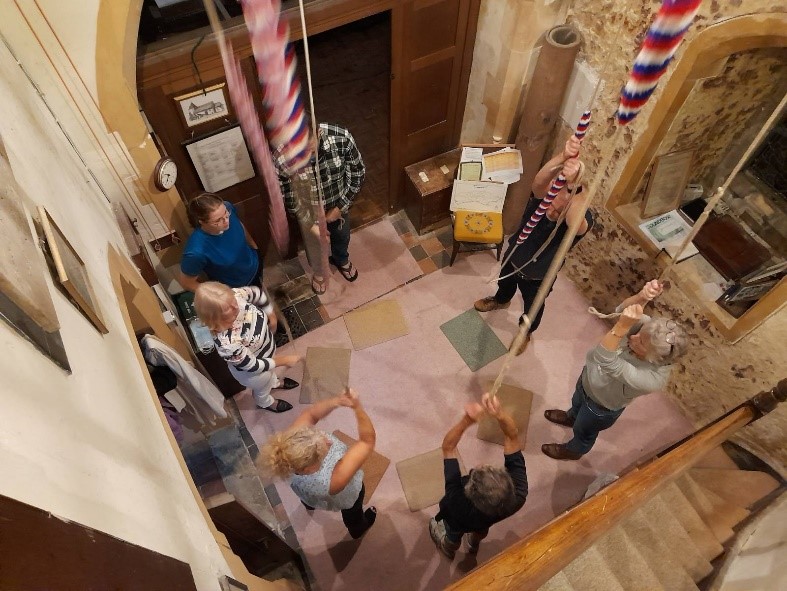 Have you heard the bells ringing at St. Cosmas & St. Damian on a Wednesday evening during our practice sessions or maybe on a Sunday morning letting the community know of the upcoming church service? This has been happening in the community for over 100years and within our community we continue to have a great group of ringers of all age groups and abilities that continue this tradition.

Bells are some of the oldest musical instruments in the world and are said to date back to China in around 3500 BC. The earliest English ring of church bells appeared in the 11th Century. In
the earliest days, they were cast in different sizes to produce different notes, but no attempt was made to tune bells until the 16th Century with the advent of change ringing (1)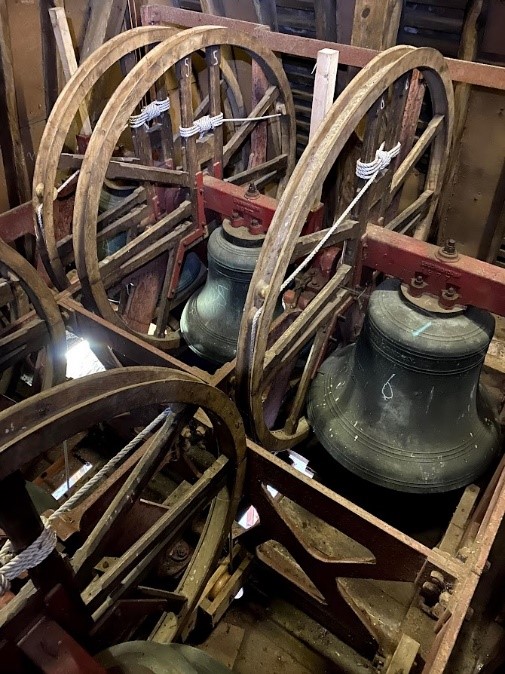 Change ringing originated following the invention of English full- circle tower bell ringing, when bell ringers found that swinging a bell through a much larger arc than that required for swing-chiming gave control over the time between successive strikes of the clapper.
Ordinarily, a bell will swing through a small arc only at a set speed governed by its size and shape in a simple pendulum, but by swinging through a larger arc approaching a full circle, control of the strike interval can be exercised by the ringer. This culminated in the technique of full circle ringing, which enabled ringers to independently change the speeds of their individual bells accurately
to combine in ringing different mathematical permutations, known as "changes". (3)

Whilst the primary purpose of ringing church bells today is to signify
the time for worshipers to gather for a church service, over the years church bells have been used for many different purposes. During the Middle Ages, church bells were used to announce the opening or closing of the city gate or warn inhabitants of a fire. During the Second World War, Churchill decreed that all church bells should be silenced so that their ringing could be reserved to warn of enemy invasion.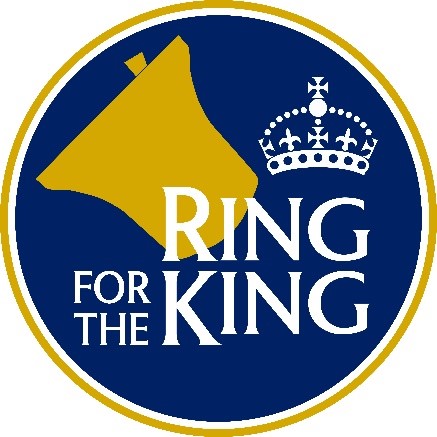 Since 2022, bells, including those at Keymer and the surrounding towers, have signified several major national events. They played a role in honouring The Late Queen in her joyful Platinum Jubilee celebrations in June and in marking her death in September. This was followed by the opportunity to ring for the coronation of King Charles III and Queen Camilla on May 6 2023. (2)
We are constantly seeking new ringers and would actively encourage anybody over 11 to come down to one of our practice nights, meet the band and have a go. Ringing provides great exercise, both physically and mentally. It has a strong social element and allows you to get involved in the local community in an exciting and interesting pastime.
Further information on change ringing: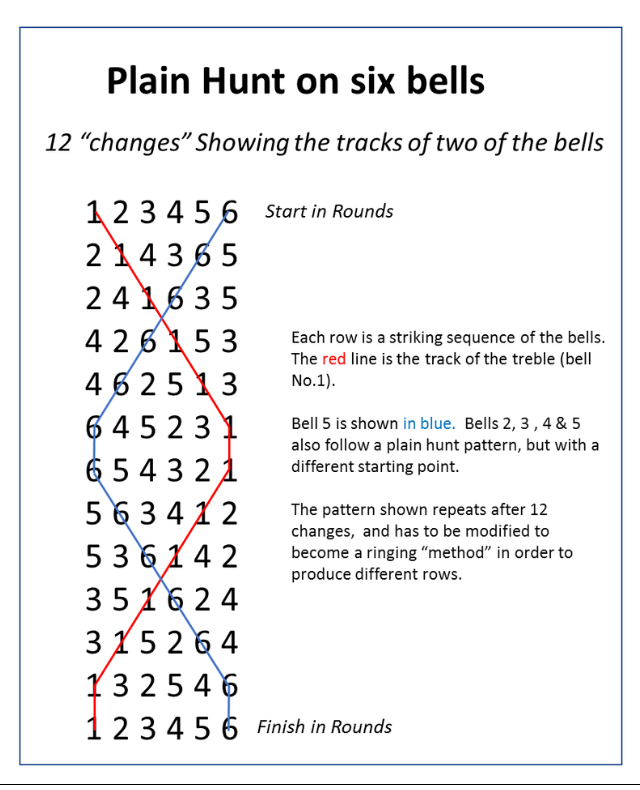 Bellringers learn the path that their bell makes
through the sequence. These sequences are known
as methods are have names such as Plain Bob
Minor and Cambridge Surprise Major. (2)
They are not written on a standard score but are
performed entirely from memory and learned by
the path of the order that each bell sounds.
Bells start out by ringing down the scale, the
familiar sound of bells we all know. This is written
out as 1 2 3 4 5 6 if there are six bells involved (As
at St. Cosmas & St. Damian). But to ring changes bells change their place in the order each time they strike. So, for example, the first strike after ringing down the scale would be 2 1 4 3 6 5. All six bells have swapped places with their neighbour. Next, the combination goes to 2 4 1 6 3 5. This time the internal bells move place, whilst the leading bell, number 2, and the back bell, number 5, do not move. (2)
Information on St. Cosmas & St. Damian's bells


We have 6 bells, added at various times: one in
1791, another in 1866 and a peal of four in 1911.
Each of these is sat within a steel frame on the upper
floor of the bell tower. They were refurbished in the
70's at the foundry of John Taylor Bell Foundry in
Loughborough which, incidentally is the oldest continuous working factory in the UK.
| | | | | | | | |
| --- | --- | --- | --- | --- | --- | --- | --- |
| | Bell | Weight | Note | Dated | Founder | | |
| | 1 | 154kg | F♯ | 1911 | | | |
| | 2 | 160kg | E | 1911 | | | |
| | 3 | 164kg | D | 1911 | | | |
| | 4 | 169kg | C♯ | 1866 | | | |
| | 5 | 214kg | B | 1791 | | | |
| | 6 | 357 kg | A | 1911 | | | |
https://dove.cccbr.org.uk/detail.php?tower=10528
Our Band.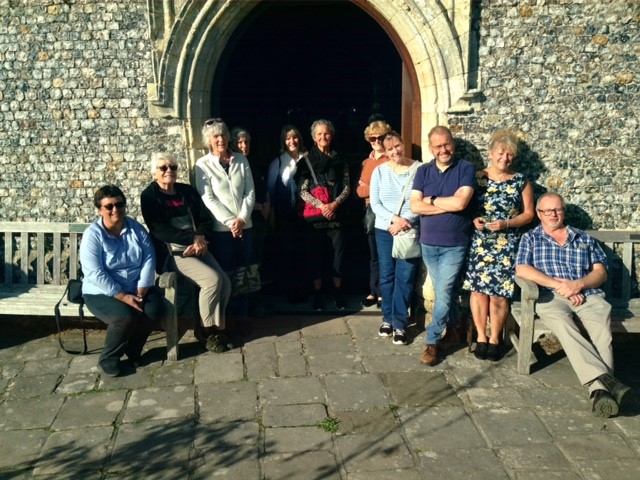 We have a great group of locals who
attend our practice nights on
Wednesdays from 19.30 to 20.45. If you
are interested in joining us, we encourage you to contact Diana Webley-Ward, our tower correspondent. Her number is 01273 842360. Or if you hear the bells feel free to pop in and say hello.
Dispelling some myths on Bell ringing
Do you need to be religious or attend church to be a bell ringer?
No, absolutely not, we have ringers who follow a range of different religions. We come together because we enjoy ringing, learning new methods and the social interaction.
Is bell ringing only for those over a certain age?
Whilst it is true that many ringers now are over 60, and too few are under 25. We are fortunate
enough to have a diverse range of ages ringing at our local church, including a number at university who ring when back for the holidays, and a range of local ringers that vary in age from 22-90. The minimum age is probably about 10 years, depending on the size and strength of the youngster.
Do I need to commit to ringing every week or every Sunday morning?
To learn and develop your skills at ringing we would actively encourage you to attend our practice night (Wednesday at 19.30 – 20.45) every week, however, we understand that on occasion there will be other commitments that mean you will be unable to attend. This is not an issue at all. This is also the case with Sunday morning ringing. Whilst it provides another great opportunity to get some practice in, we fully understand that for some this will clash with other commitments and attendance may not be possible.
Will it cost me any money to be a bell ringer?
There is a very small charge of £8 a year to become part of SCACR which is the Sussex County Association of Change Ringers. This covers insurance for the year and also allows you to attend numerous training courses and take part in group outings.
Once you improve and can ring competently you may be asked to ring for weddings/funerals for which you will be paid a small fee.
Do I need to be musical to be a bell ringer?
No. Whilst it will help if you are able to hear the pattern of the bells when ringing many ringers have never played a musical instrument. You will be provided guidance and support in helping you learn the art of ringing.
How long will it take me before I am competent to ring on my own?
This varies from person to person. The more practice you can get the quicker you will learn, and we would actively encourage you to visit other towers, when possible, to attend their practice sessions. If you are coming every Wednesday to our practice night, it will probably take you around 16 weeks to feel confident ringing on your own and another 12 weeks until you are confident ringing rounds with the rest of the team.
What days/times do you ring at Keymer?
Practice Night is on Wednesday between 19:30 and 20:45. We also ring prior to the church service on a Sunday between 09.00 and 09.45. If we have a few learners, we often encourage them to attend from around 19:00 so that we can offer dedicated one-to-one tuition allowing them to learn much more quickly.
If interested, what should I do next?
Please feel free to drop by the church on a Wednesday evening when you would be very welcome to have a taster to see what it is like. We would encourage you to make contact beforehand with Diana Webley-Ward who is our tower correspondent. Her number is 01273 842360. This way we can confirm that we are ringing that week.
Some useful websites to get further information on Bell Ringing:
- https://www.scacr.org/towers/districts/north/81-keymer-st-cosmas-and-st-damian
- https://www.scacr.org/
- https://bellringing.org/
- https://www.itv.com/watch/news/why-the-tradition-of-church-bell-ringing-is-under-
threat/fwyjbz5