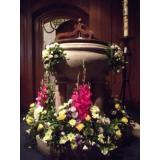 Children may be baptised (christened) in church if their parent / guardian:
lives in the parish
lives outside the parish but worships in the parish
If you live outside the parish and have no contact with the church you will need to contact the parish church where you live.
We baptise children during the main Sunday services and ask families to attend at least one service beforehand to see if they like the church and feel it could be their spiritual home.
Baptism/Christening is a very special sacrament in the church of England and the beginning of a person's spiritual journey with Jesus Christ. The objective is that the child will be brought up in the Christian faith and that the whole family will support the parents and child in this special endeavour. There is no charge for the Baptism service.
If you are interested in confirmation, adult baptism, or need more information please contact the Rector (link Staff & Leadership) or visit https://churchofenglandchristenings.org